Sander Veenman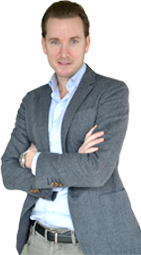 My name is Sander Veenman and I live in Eindhoven. I have a wife Lesley and 1 son his name is Mason.
After graduating from University I started my own housing agency in Eindhoven. The company has now been in existence for 10 years. We consider ourselves to be forward thinking and we are aware of changes happening in the market. In response to these changes we have started a new company - Big5.
Eindhoven is an economically vibrant city with an excellent business climate. We have seen an increase in the number of Multinationals and also a large diversity of other companies coming to Eindhoven to take advantage of the booming local economy.
Due to this success in Eindhoven's economy the number of expats relocating to this area has dramatically increased. Of course much of this is business related but it is also due to the excellent Technical University located in the center of Eindhoven. It is highly rated around the world and this has led to a large jump in numbers of foreign students.
More and more we hear English and foreign languages being spoken in Eindhoven and we have more and more international events taking place throughout the year. This has certainly enriched the culture within Eindhoven.
For any successful relocation it is vital that people start off in a positive atmosphere. After all the process can seem, understandably, quite a daunting procedure. Big5 has given considerable thought to this and it is our aim to offer a clear and useful service to both companies and expats. We welcome our clients and it is our goal to assist them with housing, education, transport, medical information, shopping, and hobbies and lots more….
At Big5 we have a dedicated and service minded team who are keen to ensure that our clients feel immediately "at home" taking the stress out of the procedure. Each of our consultants are based in the Eindhoven area and they have built up knowledge and have vast experience in assisting expats who have decided to live in this area.
We hope to see you soon at Big5!