Anita Beket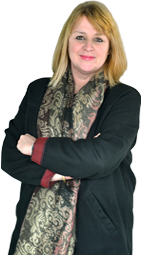 My name is Anita Beket, I am a British expat and I have lived in the Netherlands for the past 27 years.
After completing my University education I moved to the Netherlands for personal reasons. I have three children who have all been through the Dutch education system. I am also involved in the International Education, offering cultural training and Business English to Dutch Students who will later be working in International environments.
I am very much integrated into Dutch society but have strong connections with the Expat community too. I enjoy "The best of both worlds"!
I have been a Relocation consultant for the past 17 years and it is a job that I enjoy immensely. My background is a perfect foundation for understanding both advantages and challenges of living in a foreign country.
I offer an outstanding service to clients who have diverse requirements and it my aim to ensure that clients are settled into the Netherlands in an informed, and practical manner enabling clients to ease into Dutch society.
I am able to adapt quickly and efficiently to my clients wishes. My exceptional interpersonal skills have enabled me to integrate with my colleagues and clients and develop valuable relationships. I am keen to help and offer understanding to what can be a very stressful situation. I pick up on my client's needs quickly and deal with them successfully, through both the use of initiative and my ability to comprehend their needs. I am an effective communicator who works well with the relevant authorities involved in the Relocation process.
After living in the Netherlands for 27 years I have built up a vast knowledge of experience in matters that can prove to be useful for my expat client's requirements from their arrival through to their departure.